The Cotton Patch Quilt Guild
was formed in February 1991 to preserve the heritage of quilting, promote the knowledge and understanding of all aspects of quilting, provide opportunities for continuing education among those interested in quilting, and to provide service to the community. The guild meets on the fourth Thursday of each month (third Thursday in November and December) at Kavanaugh United Methodist Church, 2516 Park St., Greenville, Texas at 6:30 p.m. Visitors are welcome!
Our monthly meetings offer guest speakers, trunk shows, new techniques with demonstrations, and great fellowship. A newsletter is published each month. Workshops are offered throughout the year. Donation quilts are made for charitable organizations.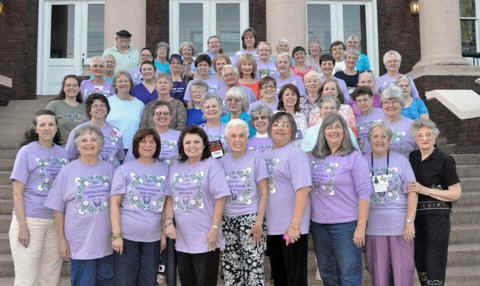 Special Room Discount: Comfort Suite has given us a special rate for the Harvest of Quilts show. The hotel is very close to the show location. Just ask for the "Cotton Patch Quilt Guild Group Rate" when you register and a king sized room is $89 per night and a double twin room is $99 per night. Register by phone at 903-259-6343 or at www.ChoiceHotels.com. The hotel is located at 2005 Center Point Lane, Greenville, TX.


Harvest of Quilts Show

The Cotton Patch Quilt Guild will sponsor "A Harvest of Quilts" on October 6-7, 2017. The Guild is accepting reservations for program advertising, sponsorships, vendors and door prizes. For further information contact Helen Varner or call 503-428-8445.
Entry information regarding quilt appraisals, the silent auction, raffle quilts, or competition in the show is available from Jane Martyn Wood .

More information to come so check back often!

Add to your
now!
October 6-7, 2017
Wesley United Methodist Church Greenville, Texas.
 5302 US Highway 69
Greenville, TX  75401

[map]

Hours:  
Friday:  9:00 a.m. - 5:00 p.m.
Saturday:  9:00 a.m. - 4:00 p.m.  


2017 Guild Programs

January 26: New Officer Installation/Up-Cycle & Trish Stuart Challenge
February 23: Wilma Moss: Five Generations of Quilting
March 23: Trish Stuart: Tickle My Fancy!-- What's New?! Mixing It Up!
March 25: Workshop: A Few of My Favorite Things--$25 per person
April 27: Martha Lindberg: Mrs. Lindberg's Neighborhood
May 25: Margie Peyton: Making Memories Through Quilting
June 22: Community Service Garage Sale/Workshop/TAQG Preview
July 27: Lone Star Laser Company: Demo and Shop
August 24: Lone Star Heritage Trunk Show: Melba Diamond
September 28 Ugly Fat Quarter Challenge/Getting Ready For Quilt Show
October 6-7: Cotton Patch Quilt Guild--QUILT SHOW!!!
October 26: Skills Night and Show Review
November 16: 10:00 AM Workshop: Thread Paint with Your Sewing Machine (12 people, $25 per person)
November 16: Francine Miller, Quilt Artist
December 21 Christmas Party and Up-Cycle Challenge